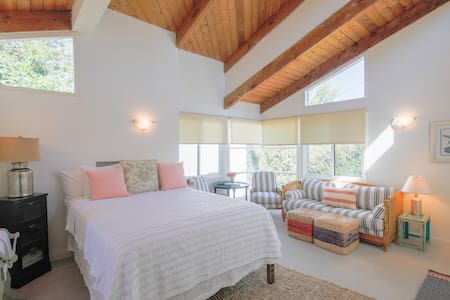 SUPERHOST
Koko vierasmaja · 3 vierasta · 2 vuodetta · 1 kylpyhuone
Charming Beverly Hills Spanish Guest House
Charming Spanish Guest House Bungalow This Beverly Hills bungalow is perfectly priced in a fantastic location! Whether coming to LA for work or pleasure, this little oasis is relaxing, sunny & feels like the perfect get-away. Beautifully decorated, picturesque, quiet and secluded. Two blocks from Robertson Blvd - Walking distance to a variety of restaurants & coffee shops, shopping, nail/hair salons & bars. Private & cozy, located up a Spanish tiled stairway in the back of the property!
Mitä vieraat sanovat:
"Margarets paikka oli erinomaisella paikalla West Hollywood. Kaikki oli hyvin lähellä hänen Makeaa kotiaan. Hänen paikka oli puhdas, erittäin mukava ja Margaret oli täydellinen isäntä! Olemme todella valinneet mahdollisuuden käyttää hänen autotalli! Kiitos kauniista ajasta!"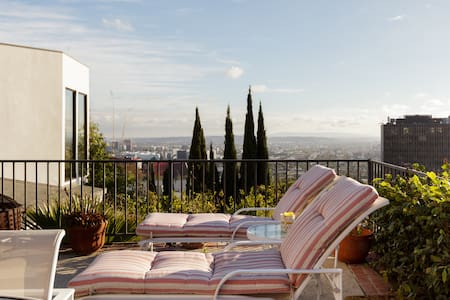 PLUS
Koko bungalow · 2 vierasta · 3 vuodetta · 1 kylpyhuone
Fab. Celebrity Area Guesthouse with Amazing Views and Pool
99.9% VIRUS FREE W/ UVC LAMP. 60 day minimum stay now. This is a one-of-a-kind guesthouse. Have breakfast or drinks on the balcony while taking in expansive killer views from city to sea, in this 40s style bungalow wing. Or after a day of exploring, gather poolside to take a dip, watch the sunset or view the city lights. Be right in the middle of a celebrity neighborhood above the Sunset Strip; walk to restaurants, shopping and clubs. We start you off with snacks and breakfast fixings for the perfect beginning to a great getaway. Utube video tour: sydsfabulousguesthouse17. 24/7 street parking.
Mitä vieraat sanovat:
"Meillä oli niin upea aika LA: ssa, ja Barbra ja hänen omaisuutensa olivat suuri osa siitä! Barbra oli niin avulias ja mukava, jopa oli niin ystävällinen yllättääksemme meitä kakut ja viinit häämatkallamme. Hän on erittäin ystävällinen ja antoi meille runsaasti upeita suosituksia, jotta vierailustasi saataisiin irti. Huone oli erittäin siisti ja siinä oli kaikki tarvittava. Olimme erittäin mukavat ja pystyimme tulemaan ja menemään niin tyytyväisinä. Myös erittäin turvallinen naapurusto kauniilla näkymillä"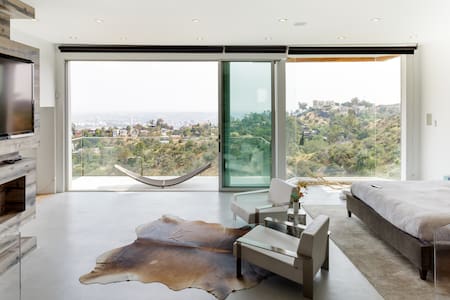 PLUS
Koko talo · 7 vierasta · 3 vuodetta · 2.5 kylpyhuonetta
$4.5M Modern Jetliner City Views New Construction
Featured in Dwell Magazine + home tour, Curbed, Beyond the Gates, Robb Report & several other modern home publications. This breathtaking home on the Sunset Strip in the West Hollywood Hills is characterized by stunning details & modern sensibility. The home features three levels, each showcasing sweeping views of LA city line. Enjoy privacy & revel in the luxury with highlights like a steam room, ceiling-fill bathtubs, & gourmet German kitchen. Bentley Bentayga available to guests, msg 4 rates.